Friends… Many of you know that my buddy Craig O'Shannessy is the lead strategy analyst for the WTA and ATP Tours.
I recently had a chance to catch up with him in New Orleans and we had another great conversion that I want to share with you.
Craig has agreed to allow me to share some restricted content from his website www.BrainGameTennis.com with my followers.
We all know that there is a perception amongst players (and some coaches) that going to the net is a thing of that past. Something that just does not work in today's modern game… Right?
Well… NOT SO FAST!
There is new data fresh off the pro tours that shows playing at the net actually DOES work and it can be proven!
Craig took another deep dive into the numbers at Wimbledon over that past decade so we could have a comparison over many years. Read below to see the surprising findings.
Wimbledon Approaching 2002 – 2015
Craig writes below…
Baseline numbers are not changing.
Growth is only occurring at the front of the court.
Let's take a look at baseline play v net play at the Wimbledon Championships since 2002.
It's great to have a wide-angled, 14-year view of baseline and approach data from the Championships to see what's really changing (or not changing) in our sport.
While the grounds at Wimbledon have been full of change with a multitude of improvements over recent years, the numbers of the game remain pretty steady – definitely a lot more stable at the baseline than the front of the court.
Wimbledon is the home of tennis. Tradition and history reign supreme at SW19.
Let's take a look back through time, back to 2002, and get a feel for what is happening at the baseline and the net.
GENTLEMEN 2004 – 2015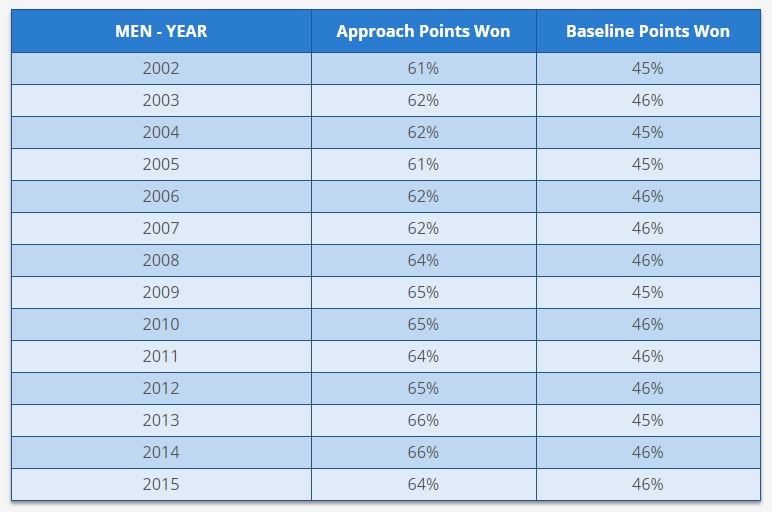 LADIES 2004 – 2015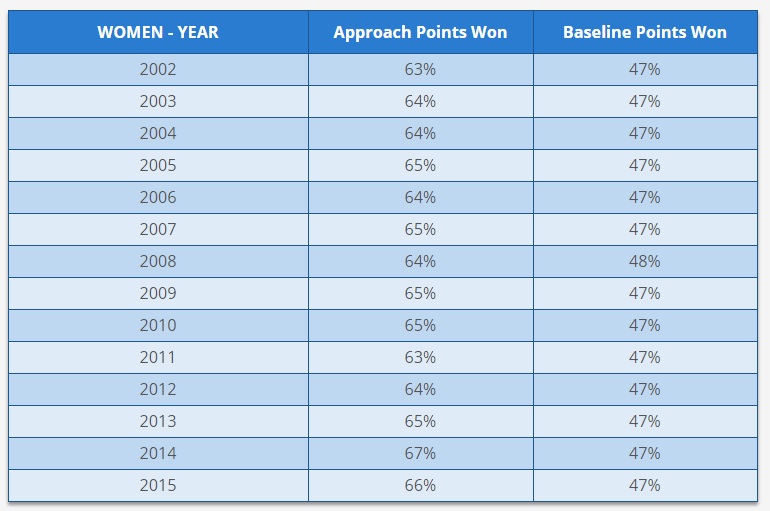 This is really simple.
Over the past 14 years, the average winning percentage for baseline play has only fluctuated 1%. It's going nowhere in a hurry!
Average approach win percentage is not exactly setting the house on fire, but it has moved five percentage points for the men, and four percentage points for the ladies. The good news is that it is trending in a good direction in both draws.
So it's a really easy question.
Do you want to play more points delivering a 46% win ratio, or less?
Do you want to develop your front-court game to try and create a bigger pool of points for yourself where the average is 66%?
It's a no-brainer.
By the way, the difference between the two is 43%. (66% divided by 46% = 1.43). A 43% increase in a game of such small margins is staggering.
Tennis development, in general, is linear by nature, evolving over time. That's not the best way to teach the sport.
It is so much better to go all the way to the end and understand what the end result looks like, and then work backwards to create it. It's much more efficient, as you already know the steps required.
Thinking "forward" can get you lost, or sidetracked at the very least. Thinking "backwards" keeps the end result in the forefront of your mind. I like to develop players that way.
Jorge summarizing… so let me address the elephant in the room. Many of you are thinking as you read this that  cool… this all sounds good…. except for one thing… I suck at the Net.
So how do we deal with the reality that for most players, their front court game is not their strength? In fact, many players have a downright awful net game.
They say you go to battle with the army you have, not the army you wish you had. The same holds true for tennis players. You go into competition with the skills you have and the one you can actually deploy under the pressure of competition.
So my suggestion is to keep adding to your arsenal and working on your net game. The numbers don't lie… It is more effective to play from the net so let's make sure that as players we are not standing here a year from now saying well my net game still is not good enough to use. It's time to get working on our net & finishing skills.
You may never be known as a net rusher or serve & volleyer, but you don't have to be known as the guy who can't play at the net.
As far as coaches go… we need to commit to help our players improve in these areas. It can be very tempting to just ignore this area because it takes a while to master, but that sells our students short and will cost them matches in the long run.
Those are my thoughts for you today. I hope you enjoyed this info from Craig and feel free to check him out on his website at www.BrainGameTennis.com.