Tennis Friends,
If you teach or play tennis, you're gonna wanna read this.
I have some really cool data to share with you. My good buddy Craig O'Shannessy is the lead strategy analysts for theWTA and ATP tours. If you want to see his website it is at www.BrainGameTennis.com. I recommend you check it out.
Here is the cool part….  Craig and I were recently at the USPTA World Conference on Tennis In New Orleans and I asked him face to face if he would allow me to share some of his stats and data that comes straight off the pro tour with my followers.
He has agreed! but this is only for those of you on my list, a lot of this information is on his subscription website, so please do
not

distribute it to others.
Craig has access to data from the pro tour that you and I will never see or have access to. The information blew me away and has literally changed the way I coach and teach. I can guarantee you that you need to see these numbers.
I wanted to see if the data Craig revealed actually was accurate for

my

players, so I did some match charting of my kids at a USTA tournament and what Craig predicted would happen was spot on.
What am I talking about?
Rally Length
This data had never really been analyzed before so Craig decided to take a deep dive into the stats and what he found was literally game changing. Below is an article that he is allowing me to share from his website. Remember, Craig sells this type of data on his website, but has agreed to let me share it with you FREE so please do not distribute this email or post the info anywhere online.
From Craig …Rallies come in all shapes and sizes. They can be short, medium, or long. They can be grinding or attacking, and they are mixed up all over the place during a match. Short ones follow long ones, with medium ones also surfacing at any time. The random nature of the length of the point creates a natural disguise that the length does not really matter that much. Rally length has flown under the radar for far too long. The length of a rally may seem unimportant, but that my friends, is just a beautiful illusion.
I (Craig) was the tournament's analyst at this year's Australian Open, and examined a wealth of analytics every day, looking here, there and everywhere for the real keys to winning and losing.
It's normal to look at the obvious culprits, such as forehand winners, approaching, first serve percentage, yada, yada, yada…
But something really caught my eye. Rally length had been sitting there minding it's own business all along – I had just not sat down and investigated it. How long a rally is REALLY matters. It is definitely the proverbial monster in the room, sitting there quietly, attracting very little attention, until you suddenly have a really good look at it, and then say to yourself – holy $%#@$@, there is a monster in the room! Get ready for your jaw to hit the ground.
As you will see from these revolutionary numbers below,

 shorter points completely dominate our sport.
Data is from the Men's draw at the 2015 Australian Open
70% 

are First Strike (0-4 shots)
20%

 are Patterns of Play (5-9 shots)
10%

 are extended Rallies (10+ shots)
Average Rally length… Remember all the rallying back and forth you love to do from the baseline? Forget about it…
Of all the information in Num3ers (that's Craig's course that he sells), of all the percentages that are uncovered that shed light on our great game, average rally length has got to be one of the most shocking. You would think since pro's are the best in the our sport at hitting a ball in, that they would have long rallies with lots of mental, physical and emotional dueling out there on the court.
The best players in the world, playing at the most prestigious tournaments in the world. should be able to make a ton of balls. After all, isn't that what makes them so good? Shot tolerance is a term thrown around a lot by coaches. Is it overused? Overstated?
If you thought that the average rally length was longer because the players are better, you need to think again. If you presumed that points last longer on the ladies tour because of slightly less power in their game, then you got that one wrong as well.
Let's have a close look at two of the most important graphs in our sport – average rally length for both men and women from the Round of 16 onwards at the 2015 Australian Open.
MEN

– 2015 Australian Open: Rd 16 to the Final


Women – 2015 Australian Open: Rd 16 to the Final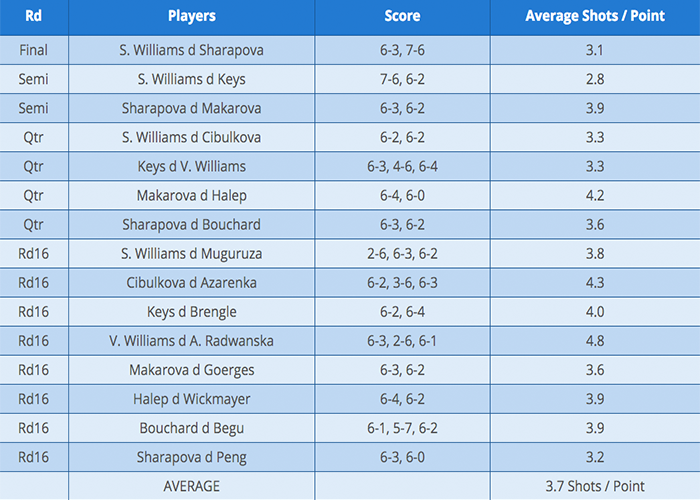 So let's take this a step further, and go through the first 4 shots and plan out the primary and secondary tactics for each of them. Remember the "zero" in zero to four represents double faults, just in case that number threw you off (like it did for me before I figured out what it was).
Shot 1: Serve: 
Remember, we are seeking to force errors first – make the opponent uncomfortable and off balance. Don't worry about hitting aces – they are just the icing on the cake for right now. The primary location in each service box is to go wide to stretch the opponent off the court. Lots of return errors come from this location. Yes, you can also go body and T, but save those more as surprise serves, or when you are way up, or way down in the score.
Shot 2: Return:

 
The best return you will ever hit is deep down the middle of the court right at the server. You want to target the groundstroke that has the biggest backswing so you can rush it and force an error. For example, if the server has a backhand that goes straight back, like Djokovic, it's extremely hard to rush. If your opponent has a forehand with a big backhand like Lleyton Hewitt, then that's the side you pick to attack. You can also go wide with the return and instantly stretch the server, but it's best to run this secondary pattern after a lot of deep middle returns so the server is not ready for it.
Shot 3: Serve + 1:

 
You want this to be your stronger side, so for nearly everyone it will be a forehand. Players like Roger Federer and Rafael Nadal are always looking for a Serve + 1 forehand, while players like Djokovic will mix backhands in more because the technique is so strong and simple and tough to rush. The primary location to hit this shot is DEEP. There are other qualities you can have on the shot, such as spin, power, height and direction, but nothing beats getting the ball deep early in the rally to force the opponent back, place them in a neutral to defensive position, and receive a short ball back to attack.
Shot 4: Return + 1:

 
This is something most players don't think about, but the return needs to set up the next attacking shot. Another benefit of hitting a big return right down the middle is that you have a big target to hit an aggressive shot to, and the ball will naturally boomerang right back down the middle of the court, so there are no obvious angles for the returner to get hurt with. The returner does not have far to run to turn a backhand into a run-around forehand, and then take this shot DEEP to the opponent's backhand and begin the process of kicking off a wide variety of Patterns of Play.
End of Craig's data..
Jorge here… So I decided that if this data was true then the way I was having my students practice (always practicing long rallies) was exactly the opposite of what they experienced in actual match play.
So to make sure the data was accurate for club players and juniors, I decided to chart four matches that two of my students played in a recent tournament. What I found was very revealing and the numbers came in almost identical to what Craig said they would be.
So below I have the results from all 4 matches I charted for my players.
My first player = JP. Avila
1)

 

JP vs. Player 1 (JP won 6-3, 6-3)

2)

JP vs. Player 2 (JP won 6-2, 6-2)

My second player = Danny Kroeze
1) Danny vs. Player 1 (Danny won 7-5, 6-4)

2) Danny vs. Player 1 (Danny won 6-3, 6-1)

For coaches and players alike. You need to address this information. Maybe is
not
the best idea to try to rally long points and always try to outlast our opponents. I have already made the changes in our classes and we are focusing much more on First Strike Points (0-4 shots). After all, the numbers don't lie.
Here is my personal position on all of this.
The way you play tennis is based on your skill level. In other words… the higher the skill level the more you should be playing first strike tennis.
The way you teach tennis is the exact opposite of how the pros play. In other words. Since everyone starts out as a beginner, they might want to learn to play mostly consistent points, but as they get better and better, they need to transition towards first strike tennis. Unfortunately, too many players never develop the attacking skills they need to beat really good players.
Perhaps a good model for development would be…
You teach Beginning players to play using extended points. (10+ shots)
You teach Intermediate players may want to focus on patterns of play points (5-9 shots)
You teach Advanced players should play mostly first strike tennis (0-4 shots)
I hope this new data gets you thinking about what really happens the court and good luck on the courts.
Thanks